Joey Evans has completed several marathons and ultra-marathons, hiked the fish river canyon and otter trail, finished the Roof of Africa enduro, raced in the Botswana desert 1000 and the only South African biker to complete the 2017 Dakar Rally.
Joey Evans has ridden his dirt bike throughout South Africa as well as Mozambique, Swaziland, Lesotho, Botswana, Namibia, Morocco, Bolivia, Argentina, Paraguay & Lebanon. Book Joey through Motivators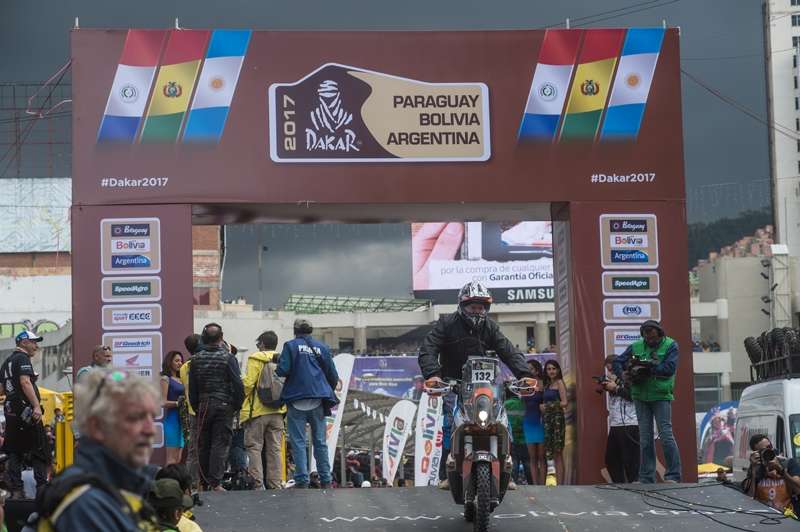 Doctors said he had a 10% chance to walk again
Joey had a dream to race his motorbike in the Dakar Rally. A race considered to be the toughest off-road race in the world.
His dream was shattered, when in 2007 during a local race, he sustained serious injuries, crushing his spinal cord and leaving him paralyzed from just below my chest.
On 2nd January 2017, after 10 years of tough challenges, successes and lessons learnt, he lined up as a competitor at the start of the Dakar Rally in Asuncion, Paraguay.
13 days and a gruelling 9000km later, he achieved his dream and became the only South African biker to finish the 2017 Dakar Rally
Then at 32 years old on the 13th of October 2007 I lined up at the start of the Heidelburg hare scramble with about 20 other riders. I had a bad start there the year before and sat in the dust for ages unable to pass. This time I was determined to get a good start.
And that's all I can remember until I woke up facing the sky with paramedics and spectators standing round me.
Later I was told that going into the first corner about 100m after the start another rider crashed into my swing arm and I was catapulted off the bike, landed on my head and ridden over by other riders.
I next remember lying in the dirt looking up at all the faces and realizing I had clearly crashed and been unconscious, I joked "did I win?".
They all laughed and were clearly relieved but then my buddy Tristam's wife Tiffany who had been standing next to me with my bent knees resting on her moved back.
My legs just dropped to the floor like two big pieces of dead meat. I whispered to the paramedic, not wanting my wife to hear who was near me, that I could not feel my legs. She heard and suddenly we all realized that this was serious.
To top it of I thought my mouth was full of dirt and stones and I was spitting it out, it turned out to be my teeth. I had broken 12 teeth, some completely shattered. There was many complications with the treatment I got that day.
First they tried to get a helicopter evacuation which is normally standard for spinal injuries but there was a problem and the helicopter couldn't come. Next the ambulance on site was not equipped to transport a spinal injury.
Eventually they called in another ambulance and after lying in the dirt for more than 3 hours I was transported by ambulance to the nearest hospital more than 60km away, partly on dirt roads.
Despite suffering a devastating motor crash that left him paralysed and nearly crushed his dreams of competing in the Dakar rally, South African motorcyclist Joey Evans has completed the 2017 edition of the grueling race.
Evans has always wanted to compete as a Dakar Rally: "I dreamed of racing in the Dakar rally after watching it on TV and made it my goal to compete one day. I went on to race a number of races both regional and national in 2006 and 2007."
Overcoming the struggles
The SA racer broke his T8 and T9 vertebrae an crushed his spinal cord that left him completely paralysed from the chest down.
Physiotherapist Sharné Bailey, who has worked with Evans since two years after his accident said his true heroism came from his persistence during rehabilitation with physiotherapists like herself and Melanie Harding from the South African Society of Physiotherapy.
After a neurosurgeon fused the two vertebrae, it increased the chances of Evans walking again to only 10%. Follow Motivators on Twitter
Bailey said: "A 10% chance was all a guy like Joey needed. And once he was up on his feet, it was inevitable that he would want to get back on a bike. And that he'd start dreaming Dakar dreams again. Biking was his life, he had that fire in him."
Just a 10% chance
Harding said: "He told me that any competitor only has a 30% chance of finishing the Dakar, so he reckoned he had maybe a 10% chance – and that was enough for him. I am so proud of him – it's an amazing, amazing achievement."
Navigating Detours on the Road to Victory
On 2nd January 2017, after 10 years of tough challenges, successes and lessons learnt, I lined up as a competitor at the start of the Dakar Rally in Asuncion, Paraguay.
13 days and a gruelling 9000km later, I achieved my dream and became the only South African to finish the 2017 Dakar Rally on a motorbike.
The journey from paraplegic to Dakar Rally finisher over the past 10 years has been one filled with many emotions, challenges, setbacks and victories. Allow me to entertain, motivate and inspire your audience as I take them along on the journey to an impossible dream.
Joey Evans shares his Inspirational story of determination with his message of "You didnt come this far, to only come this far". His story is a must hear for true motivation against all odds and achieving your goal